Finding a gift for a baby is far easier than getting a teenager one. Teenagers become more subjective about what they like or don't like as they grow older, meaning you can either get it right or wrong. A coding lover might prefer a Lego robotics kit to a book. Remember that sneaker your child showed you last summer or the Belieber T-shirt your girl could not get over.
Consider your teenager's interests before deciding. You can take a hint from the mom-I-want -this conversation you've had with your child in the past.
There is no middle ground. The pressure to buy your child the perfect gift is completely normal. Doing so shows you know your child to a great extent and make them happy.
How to Know What a Teenager Wants?
What is worth doing is worth doing well. A gift can go a long way in cementing the bond between you and your child; hence you should put a lot of effort into it. If you have more than one child and you intend to surprise them, do not make the mistake of getting them the same items as no two teenagers are the same. The wishes of a sneakerhead are different from the predilections of an audiophile.
17 Things to Get a Teenager Who Has Everything
To help you in your decision-making process, we have grouped the gifts recommended in this guide according to various hobbies ranging from gaming to reading.
Bookworms
It's a myth that only shy kids love to read. Every teenager enjoys alone time in their room with their favorite book. Apart from books written by their favorite authors, you can also get bookworms:
Let's face it, the floating look of the Umbra conceal wall shelf is enough to get you the cute aww response from your child. It is the perfect gift for every bookworm that stays in a small room.
A gift does not have to be expensive to be appreciated. Once the item solves a personal problem in an amazing hitch-free way, it is a perfect gift. The Freds fingerprint bookmark makes it easy to scroll back into an uncompleted page.
Audiophiles
If your child is an audiophile, someone who is highly interested in high-fidelity sound reproduction, ATS Acoustic panels, and Sennheiser BHD6XX will do the trick.
Audiophiles prefer using headphones most times because of the reflective impact of the walls and its negative influence on the quality of the sound produced from speakers. The major solution to this problem is to treat the room with ATS acoustic panels.
Sennheiser HD6XX
Sennheiser HD6XX makes your child feel like their favorite music is being produced or performed right in their presence.
Bedroom Hermits
Every child needs privacy, most especially the bedroom hermits. To give your child a sense of control over their privacy, buy them a frigidaire 6 can retro mini portable fridge.
This fridge makes it easy for bedroom hermits to get drinks without leaving their rooms. The juice, water, or soda is just a stretch away. This mini fridge can hold up to 6 cans. It is designed to help your child keep their snacks and drinks at the right temperature.
Chess Lovers
Chess is a game that develops the ability of your child to partake in abstract reasoning. It is the best game for teenagers. You can get two great gifts for a chess lover: the US chess federation annual membership and Chronos GX digital game clock.
US chess federation annual membership
If you reside in the States, a US chess federation annual membership can be the perfect gift for your kid. It will reignite their sense of purpose. The annual membership gives your child access to Chess Life magazine and federation tournaments. Your child will be rated against comembers for participating in the tournament.
The Chronos GX digital game clock is one of a kind. It is a high-end digital clock that allows chess players to engage in a fast-paced game. The clock is equipped with eight tournament options and four default blitzes.
Coding Lovers
Lego robot building toys are the best gifts to get teenagers who are old enough to code and still interested in toys. Two must-have lego toys for teens are Lego Star Wars Boost droid Commander 75253, and Lego boosts creative toolbox 17101 fun robot building set.
This is the perfect gift for Star Wars fans who love to code. The kit comes with your child's favorite Star Wars droids. Nothing is more edutaining than learning to code while completing star wars missions.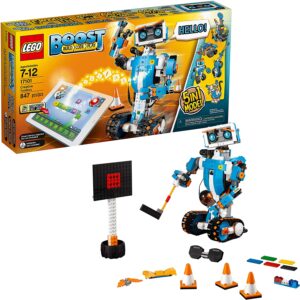 This is a toy that becomes tasking as the child proceeds. It motivates a child to have an interest in coding. The robots can be controlled using the LEGO app available on android and iOS.
Gamers
There is no better way to improve your child's focus than getting your child an interactive game. If you have a child who already loves gaming, you can surprise them with Nintendo switch lite and Razer Kishi mobile game controller.
Nintendo switch lite
This is the best console gift for a natural gamer. It syncs well with switch games that were built for handheld mode.
Razer Kishi, mobile game controller
Razer Kishi, mobile game controller, makes it easy for kids to perform popular tricks on their mobile phones. The game controller turns a phone into a console when it is fixed around the phone.
Tech Fiend
Tech fiends love to digitize everything they own, including bracelets, watches, and water bottles. Hidrate spark 3 smart water bottle and Holy Stone HS161 foldable drone are the best gifts for children who are deeply interested in techy things.
Who knew bottle water could glow before now. The smart water bottle helps your child cultivate healthy drinking habits.
Looking for the perfect futuristic gift for your child? The Holystone HS161 foldable drone is the best present you can get a tech fiend. The drone comes with a handheld camera and can serve the function of a power bank (1000 mAh)
Sneakerheads
There is nothing a sneakerhead loves more than sneakers. To be sincere, any great sneaker would be a great gift for teens who love sneakers, but you can also think outside the box. Gifts like the Air Jordan 1 led neon sign and Air Jordan wall clock are all you need to lighten up the mood of sneaker lovers.
Air Jordan 1 led neon sign.
The Air Jordan 1 LED neon sign makes your child's room glow. It can be hung over their shoe rack or anywhere that suits them.
Air Jordan wall clock
Normal is boring. That's why an Air Jordan wall clock is the perfect clock present for your kid. The handmade clock blends well with any room decor.
Music Birds
A teenage singer is not necessarily an audiophile and vice versa. Do not mistake an audiophile for a singer though a child can be both. You can get the music lover a home karaoke system built into a mic stand and a tuner that works for many musical instruments.